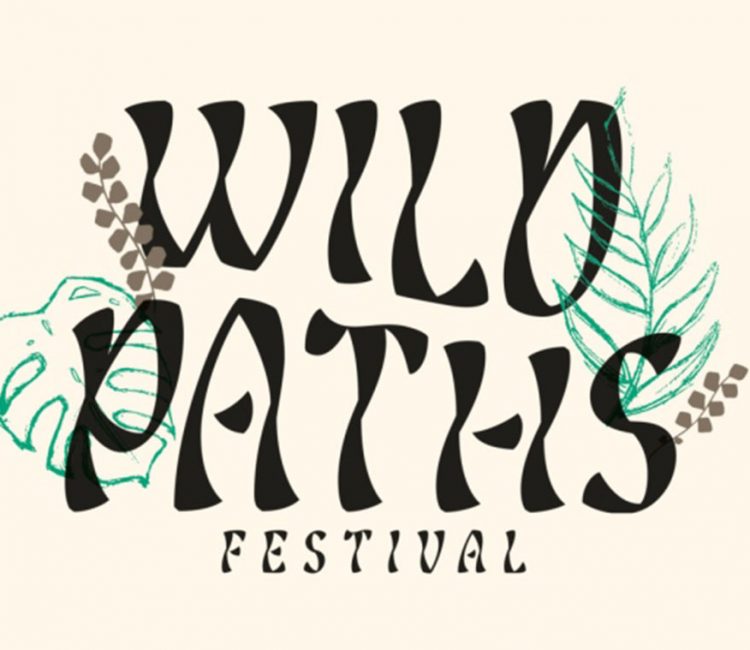 Events Blog
Wild Paths Festival 2019
If you are local to the East Anglian region you've undoubtedly heard of the inaugural Wild Paths festival happening this coming October on the weekend of the 18th-20th. On the off chance you've resided on the moon these past few months, Wild Paths is a brand-new multi-venue festival – inspired by Brighton's The Great Escape – bringing a dauntingly wide roster of exciting bands and live acts to the streets of Norwich.

Boasting over 200 acts playing across 18+ venues within the city, the shenanigans kick off at Bermuda Bobs and Norwich Arts Centre on the 17th of October with pre-party shows. Over the course of the weekend festival-revellers will be treated to an eclectic cocktail of local, national and international artists of every creed and genre delighting audiences with a myriad of fantastic live music at the city's biggest, best and coolest venues.

For a taster of what's in store, read below for an outline of the weekend's happenings including what's on at Epic, a specially curated selection of our favourite acts performing at fellow venues, ticketing info and the low down on hospitality on offer including: food & beverages, arts, speakers & more.

We hope you enjoy reading and look forward to catching you all on the dance floor!

Much Love,

The Epic Team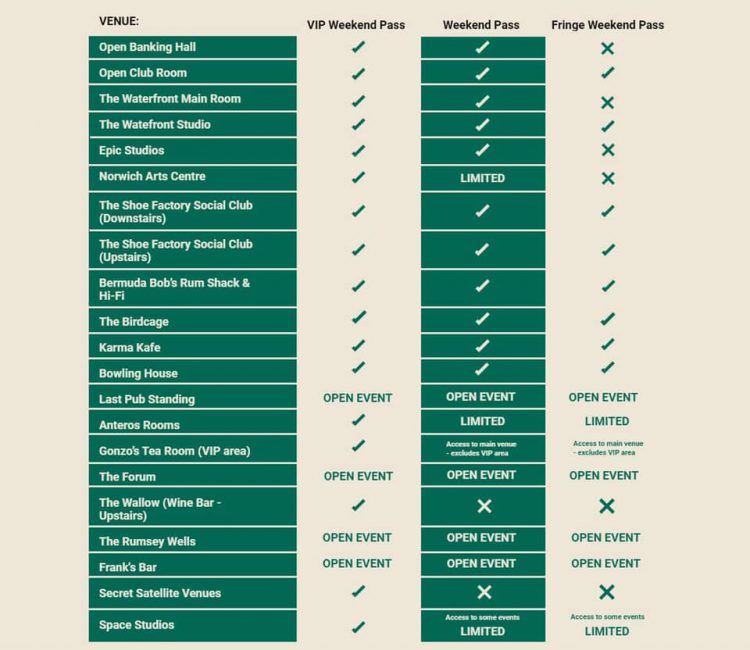 Ticketing Info
Every punter can create their own unique festival experience as Wild Paths gives the option to purchase show, day and weekend passes. Weekend passes are available with three options: Fringe, Standard and VIP Pass; allowing customers the convenient choice of dipping their toes with the odd show or launching a chaotic attack on everything the weekend has to offer! See below for details surrounding the different ticket types:
FRINGE WEEKEND PASS
Access to smaller venues and a number of main festival and fringe events. EXCLUDING: Open Banking Hall, Waterfront Main Room, Epic Studios, Norwich Arts Centre, The Wallow, Secret Satellite Venues. LIMITED access to: Anteros Rooms, Space Studios. £35 + BF.
WEEKEND PASS
Access to all main festival events EXCLUDING: The Wallow and Secret Satellite Venues and LIMITED access to: Norwich Arts Centre, Anteros Rooms, Space Studios. £65 + BF.
VIP WEEKEND PASS
Allows fast-track entry to all venues. Access to VIP/artist backstage bars, drinks events and parties thrown by partners and sponsors. Free drinks and select merchandise will be provided at these events. Official Wild Paths tote bags including gifts and samples from sponsors are also provided. £95 + BF.
Wild Paths at Epic Studios
Caswell
Caswell will once again be gracing the Epic Studios stage on the Saturday of Wild Paths. Having recently won the final of the Hoax live music competition at Epic to support Ed Sheeran at his Chantry Park shows in Ipswich, and a storming set at this year's Reading festival, Caswell is certainly one to keep an eye out for making a huge splash in the industry!
Her music is a bassy amalgamation of neo-soul, electronica and synth-fused pop resulting in a bespoke sound that comes alive during her captivating performances.
Wild Paths at Epic Studios
Maya Law
Maya Law, another Epic Studios alumni who honed her craft at neighbouring Access Creative College, is back to perform on the Friday evening. Maya is a local upcoming singer-songwriter whose music is an autobiographical blend of acoustic, neo soul and hip-hop citing influences such as Amy Winehouse & Ms. Lauryn Hill.
No stranger to the Norwich music scene having recorded many live sessions at BBC Introducing Norfolk and aggressively gigging the local circuit for some time, her live performances have been described as having a warm and touching stage presence and bond with the crowd.
Wild Paths at Epic Studios
PillowTalk
PillowTalk is more than a whispered chat before bed but rather that groovy, soulful electronic music band who have been gifting you songs from the heart since 2011. Their music fuses the sounds of classic R&B, boogie and disco with underground house and indie dance.
They will be coming over from San Francisco to play two sets at Wild Paths Festival. They bring their iconic live set to Epic Studios on the Saturday evening, and will also be heading to Space Studios later in the night for a DJ set with 'No Regular Play'.
Wild Paths at Epic Studios
Etta Bond
London based contemporary soul star Etta Bond, first became known back in 2011 when she featured on Wretch 32's album 'Black and White'. Since then she has worked with the likes of Labrinth, Tom Misch and Kojey Radical, to name but a few. It has been said that she is 'best known for her soulful British vocal and straight-talking attitude.'
Etta cites influences such as Jill Scott and Billie Holiday but bestows a very much unique style with her late-night R&B and club-friendly pop anthems.
Wild Paths at Epic Studios
Franc Moody
Franc Moody comprises London duo Ned Franc and Jon Moody, who embrace disco-funk in glittering dance-pop productions, emboldened by Daft Punk's studio forays into the recreation of classic disco on Random Access Memories. The duo combine elements of electronica, funk, disco and soul specialising in the use of DIY sounds in their productions that exhibit their signature style of captivating and buoyant music.
Wild Paths marks the pairs first outing to Norwich, so expect something very special for Franc Moody's headline set on Saturday evening at Epic, as we welcome their 'infectious stage presence' to the Studios.
Wild Paths at Epic Studios
Crazy P
Joint headliner and Saturday's set closer is the great Crazy P (DJ). Fusing slinky underground disco, deep electronic throbs and shimmering pop moments; this is dance music with a voice, heart and soul. Boasting seven studios albums and a career spanning over 20 years, Crazy P remains stronger and more relevant than ever. Funny how the tides of time turn, and how the sounds of a typically British type of house and disco are now more du jour than ever before. Way before the rise in prominence of disco, house and soulful pop Crazy P has spearheaded the revival (and perpetuation) of these sounds since 1997.
Wild Paths at Epic Studios
Simian Mobile Disco
Friday set closer and co-headliner act Simian Mobile Disco are an English electronic music duo and production team, formed in 2003 by James Ford and Jas Shaw of the band Simian. Musically, they are best known for their analogue productions. Ford is also known for his production work. When Simian split they continued DJing and recording as Simian Mobile Disco, and their acclaimed 2007 debut album "Attack Decay Sustain Release" earned them their first hit with "Hustler".
Their most recent album 'Murmurations' features the Hackney Deep Throat Choir throughout a selection of their songs to create atmospheric layers of vocals which adds to their euphoric sound. Their seminal live set is not one to miss as they assault Epic's dance floors with their trademark toe-tapping electro-boogie. 
What Else is Going on at Wild Paths Festival?
Spinn
Liverpudlian quarter Spinn formed back in 2015 and describe themselves as a 'jangly dreampop band'. Their debut album launched May this year and since then they have been playing gigs all across the UK with another burst of shows scheduled this Autumn, including supporting The Slow Readers Club at the O2 Ritz in Manchester this December.
Their refreshing take on the true essence of indie guitar-pop is certainly a show to consider, it's going down early evening Saturday downstairs at The Shoe Factory.
What Else is Going on at Wild Paths Festival?
The Magic Gang
The Magic Gang are a traditional indie guitar outfit hailing from the Britain's liveliest seaside town: Brighton. Focusing on bright, starry harmonies and adolescent love songs pioneered by the Britpop bands of past, the Magic Gang offer a refreshing yet nostalgically comfortable sound for gig-goers. Huge hooky choruses, lightly fuzzed guitar segments and relatable boy-meets-girl songwriting all point to these chaps being your favourite band you haven't heard yet.
From their first release back in 2015, Magic Gang have gone onto release their first studio album as well as play several sold out shows across the UK and gain an army of fans. Catch them downstairs at The Shoe Factory Saturday night.
What Else is Going on at Wild Paths Festival?
Jose Gonzalez
Well-known indie-folk singer/songwriter Jose Gonzalez needs little introduction. A household name widely-acclaimed for his ethereal whispery vocals and smooth, intricate guitar pieces – it's expected his show at Open on Sunday evening will be a popular crowd draw to round off the weekend's festivities.
What Else is Going on at Wild Paths Festival?
Anna Meredith
Anna Meredith is a composer and producer who creates music of spanning a vast multitude of genres & styles, including (but very much not limited to): electronica, experimental rock, classical and pop. She has been awarded and MBE for her contribution to music and is accredited with winning both the Paul Hamlyn Foundation Award for Composers and the 2016 Scottish Album of the Year Award.
Her music will bring a diverse twist to Wild Paths lineup and is certainly a show worth checking out. She takes to the stage at the Art Centre Friday evening.
What Else is Going on at Wild Paths Festival?
Pin Ups
'Wonky-grunge Indie' band Pin Ups are formed of three lead vocalists from Norwich/London with a sound soaked in fun-fuelled energy. Pin Ups have played at most of the best-loved music venues of Norwich such as Epic Studios, Open, Bermuda Bob's Rum Shack and Norwich Arts Centre. We simply can't wait to witness their triumphant return for Wild Paths at The Last Pub Standing on the Saturday evening.
What Else is Going on at Wild Paths Festival?
VC Pines
VC Pines real-name Jack Mercer is best known as the frontman to previous project 'The Carnabys'. He has recently taken a U-turn in his career with his new alternative-soul solo project: VC Pines. A rare mix of soul, spoken word and punk; VC Pines is a force that has to be heard to be believed.
He'll be taking the stage at the Shoe Factory on the Saturday of Wild Paths to showcase his captivating vocals for the first time in Norwich.
Wild Paths Festival will also feature themed after-parties, networking events, art installations, local food pop-ups and exclusive beer and coffee by local independent retailers.
Across the weekend there will be live graffiti presentations which will be taking place at The Shoe Factory as well as a collaborative festival exhibition at Studio 20 run by Site Collective.
On the Saturday of Wild Paths, there will be panel discussions from 10am – 4pm at Norwich Arts Centre, speakers include Phil Taggart, Peter Bradbury and a number of Wild Paths performers. Additionally, there will be a full conference programme held at Access Creative College on the Friday, 10am – 6pm.
Wild Paths is all about bringing the Norwich community together and showcasing the wonderful perks our little city has to offer, such as local independent food companies including: Moco Kitchen, The Cabin, Churros & Chorizo & many more. Some of these pop-ups will be located in the garden of Norwich Arts Centre, at The Shoe Factory as well as other select parts of the festival.
Exclusive to the festival is local master-brewers Redwell's very own Wild Paths IPA, a special recipe created especially for the weekend and brewed right here in Norwich. Additionally, Strangers Coffee offer a signature a Wild Paths Roast to get you going in the mornings. Other drinks vendors dotted around the festival include Norfolk Gin and Franklin & Sons – keep an eye out over the weekend for their own exclusive remedies stocked at various bars across the venues.
We hope you enjoyed this exclusive overview of our handpicked fave bits from Wild Paths Festival. If you would like any further information or a full run down of the artists &activities involved in the behemoth of a weekend please visit the official website:
Wild Paths website: https://www.wildpaths.co.uk/
If you are already sold based on the staggering list of phenomenal acts above you can dive straight in for a ticket on our website here:
Tickets: https://www.epic-tv.com/events/wild-paths-festival/
Lastly, if you simply can't wait that long – check our listings for upcoming gigs in the meantime!
Epic Studios listings: https://www.epic-tv.com/events/
We look forward to seeing you all there!