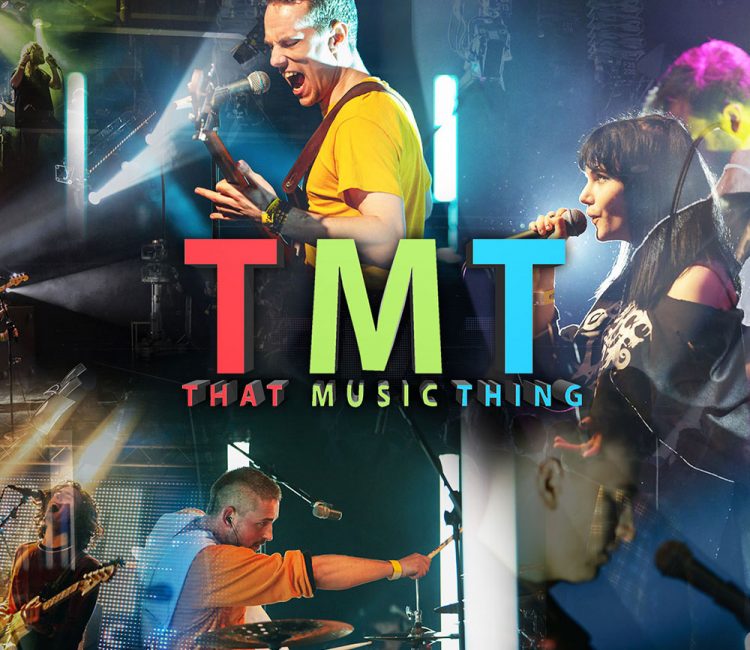 Events Blog
That Music Thing (TMT) 7th March 2019
Recently established at Epic Studios, That Music Thing (TMT), is the opportunity 19-year-old me, my neo-swing—ska jazz—punk rock band, and the rest of the scene we were part of (noughties Jersey Shore) would have leapt at. And it represents everything I wanted to provide my community and its talent. I saw and heard something I didn't see or hear anywhere else, and I wanted to share that experience with the world.

The more outlets, the more exposure. Get the band in the paper, and the county knew about them. Get the band on the radio, and the state knew about them. Get the band on television, and the nation knew about them. Supporting the grassroots music scene is my passion. One obviously shared by TMT.

TMT is one of the most recent installations at Epic Studios, Magdalen Street's very own media and entertainment centre. Recurring every month, the music showcase serves as a springboard, boosting the careers of four up-and-coming acts.
As the versatile venue is renowned for its television studio origins and concerts, each performance benefits from privileged access to its reputable, all-encompassing resources – industry-standard equipment and the experienced personnel behind it. The rigorously-controlled environment – which includes everything from how the acts will look on camera to how they sound on stage – leaves them with nothing to worry about except the act itself. Paired with this, is not only the capacity for a live studio audience, but the facility to live-vision mix and stream each thirty-minute performance to the world stage on Facebook Live and YouTube.
Above everything else, the whole idea stems from a genuine place that knows formative, first gigs are integral towards developing identity, testing material, fine-tuning delivery, building confidence, gaining fans, and making invaluable connections.
In its strive to support grassroots music, That Music Thing is free to attend so as long as tickets are booked in advance from its website and box office (otherwise it's just £3 at the door). They can also be obtained from the performing acts.
Since its debut in January, the show has featured performances by The Islas, The Visitors, The Magic E's, Jas Eade, Happy Coloured Marbles, Gladboy, Ezifreak and Mega Emotion.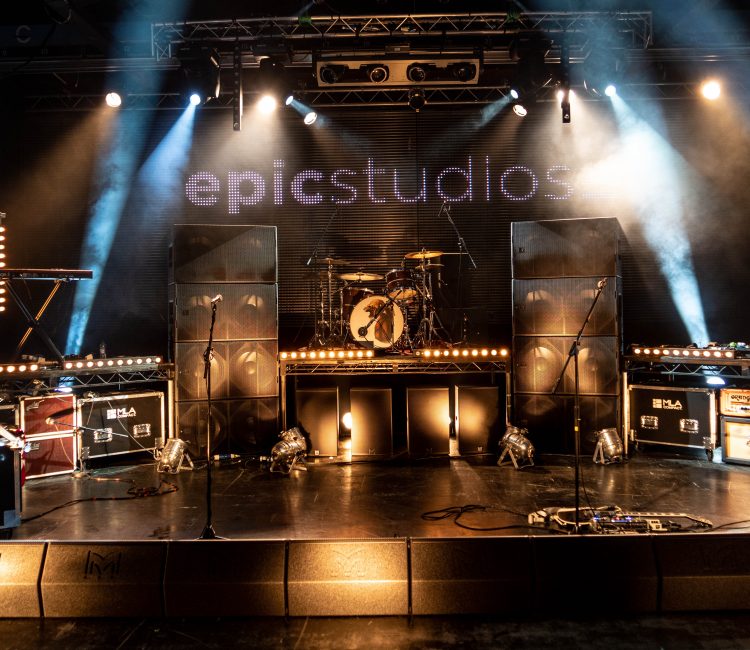 Welcome to Epic Studios
The door opens to Rick Lennox, Live Music Manager at Epic Studios. In a colourful interview for Rock Feedback in 2007, Toby L describes Rick as, "a man that may well have had an effect on your taste without you even knowing it." And it's entirely true. Rick, whose varied and interesting career includes A&R, signed Skunk Anansie and brought Kelli Ali to Sneaker Pimps (then, two female-fronted bands that trickled down to me via MTV's Daria). They were there because of him. And I am here because of him.
Cords slither across a black expanse taped with crosses and scuffed with lines. Cameras glide towards the pointed fingers that beckon them. The operators stationed behind them almost resemble ball turret gunners. Bodies pace in the cross-hairs of their triangular formation, only to be shot by a distant photographer. He slips in and out of crevices, silent except for the occasional shutter. Disembodied instructions filter through illuminated plumes of smoke that turn red, blue and gold. The tilted, paneled grids of light make extraterrestrials out of the band beneath the technical wisteria hanging down from the numbered ceiling.
Painted Heathers
That band turns out to be Painted Heathers. A four-piece that describes its sound as fuzzy guitar pop. The guitarist (Brandon Jacobs) and bassist (Jack Johnson) plug in and immediately pluck at strings before having to compete with an onslaught of textures from the percussionist (James Kerry) – the sharpness of a snare drum, the muffling of a bass drum, the chicks of hi-hats, the crash of cymbals, and the rumblings of the tom-toms. The last sound to come filtering through is the keyboard (Clemence Diot), contending with the cacophony until finally cranked up and teasing organ tones, synthesizer pads and drum loops.
Painted Heathers has an art cinema feel to them. Their interesting '80s-meets-'90s sound is due to an amalgamation of wide-ranging influences stewing in The Cure and The Stone Roses.
'Call Girl' – a song that seems to be a tug-of-war, lyrically and musically, between the subject's past and present is introduced with ticking tambourines, distorted, warped apprehension, and an unanswered phone call. The hip-shifting drum grooves and hoppy bass lines carry the song into a disco-rock number whilst the guitar carries a grudge.
The claps, distortion and echoes of 'Hollywood' are clever choices accentuating lyrics that depict an addiction to validation. Meanwhile, the feel-good summery vibes reminiscent of The Dandy Warhols, Katrina and The Waves, Switches and The Beatles mask them.
'Fire In Your Heart', peppered with Anita Ward's bell and bubbling over with an oscillator, soldiers on in a forward march, oozing with unrequited heartbreak. In the same vein, but quieter, 'Doubt' second-guesses reciprocated feelings and foreshadows missed opportunity all the way through to its final note. It has that iconic rainy-England-in-the-80s sound.
'Things' creates a watery soundscape, one of being afloat, adrift, at the mercy of the tide. Congruously Brandon's tidal voice rises in its lead-up and falls in its wake. The pervading sense of powerlessness that comes across with tones of Radiohead, seems to be asking, sink or swim?
Watching this band interact with each other, in all their little humorous asides, demonstrates the solid camaraderie that exists between them. Rapport, although overlooked, is probably the most crucial factor to a band's livelihood.
"Our music is a little bit of everything," says frontman Brandon, whose influences are Syd Barrett and The Cure. "The sound evolved from the initial ideas when me and James (drums) started the band. So, from – like a post-punk, disco-y kind of sound – into a sort of early '90s British guitar band type thing. And now – it's kind of back-evolved into the late '80s and all this. And it's bringing all of those things in."
Young States
Originating just next door at Access Creative College (then Access to Music), Young States' reformation includes original members Georgia Leeder (singer and bassist), Libby Irons (guitarist) and newest addition, Ben Brennan (drummer).
There's something very take-me-as-I-am about them in the way they perform, let alone present and carry themselves. This honesty is especially evident in Georgia's natural, unforced voice, fluttering, see-sawing, tumbling and lending authorship of raw lyrics that explore themes of duality, especially outward appearances masking internal conflicts. It takes a lot of courage to make yourself vulnerable, but in doing so, you open yourself and others to connection.
"You can probably gather from a lot of our songs that mental health is a big contributing factor," says Libby. "It's a big release for us to vent that out. It's also for other people as well. I know I personally seek a cathartic release from listening to songs about other people's problems."
But it's not just their lyrics. '(29)', for example, has very few. And it makes me think of everyday conversations – or lack thereof, really – all the unspoken things that are omitted from them. The song begins with the listless reverb of guitar and a mournful voice that repeats, "This isn't a home". Like a storm brewing in the distance, the faint rumblings of the drums builds with pressure until resembling a fist punching a wall. Music speaks louder than words when, "I can't take anymore, maybe I should just go –" sets off the drums, as if running away with a wailing '70s rock guitar.
"A lot of mental health issues make you feel like you are the only person in the entire world who is feeling this way, and then hearing someone sing about it in a song – it feels so much more personal to you," says Georgia. "You're like – 'they're talking to me! They know what I'm feeling! I'm not the only one!' And you have that revelation of not being the only one. I feel everyone seeks comfort in music."
Evidence of this is apparent in their performance of 'Over It By Now' when an entire crowd is singing: "Looks like I'm here again / All by myself", all the while ducking cameras and cranes.
I wonder what is running through their heads at the sight of this. But I can guess. Something to do with an audience that can relate to a song that spoke to them and convinced them they weren't alone. Feet sync with drum beats, heads jerk – like shifting gears – to guitar riffs, and the call-and-response chorus hooks lips: "I should be over it by now!"
Hyperfox
HyperFox is Marty McFly introducing rock at the school dance in Back to the Future. Only there's three of them. One of them (Max Mallett) makes a repetitive da-da-da-da-da-da-da-da sound on a low-frequency, four-stringed instrument, but the sound is coming out of something else, somewhere else. Another one (Oli Foster) is making all sorts of hovering, guttural noises from pressing squares. If it was something to be seen, it might look like a pulsating Slinky being expanded and contracted at different speeds and lengths. The other one (Luke Sandell) is vehemently making percussive sounds with his lips.
"I like proper, dirty, horrible make-your-eyeballs-vibrate dubstep," the drummer shyly smiles, with the composure of Bob Ross. "And now I'm back listening to rock, punk and metal. So, a variety of everything really."
In all their alchemy, which includes harmonicas, beatboxing, reggae, taffy-pulling samples and plenty of pop culture, the trio's main ideas are punk and dubstep. 'Elmo Needs Lemonade' is their perfect sampler – I personally can't recall another time where I could skank, head-bang and pop all in the same song.
As if they couldn't be more eclectic, set-opener 'Overdrive!' is preceded by a quote from Julius Caesar. So, yes, on top of everything – there's even William Shakespeare thrown in there: "Shall in these confines, with a monarch's voice, cry havoc and let slip the dogs of war." Next comes the revving guitar and pounding drums reminiscent of Bloc Party. And because I know what awaits on the other side, I look around me to clock an inevitable reaction of confusion. I think a lot of it has to do with Oli, who is pacing back and forth with his guitar – only to switch-and-bait the audience at the last minute, producing wobbly sounds from his sampler. Brilliant. As is Max (who is seriously owning that bass).
Live, and through an unrivalled sound system, the elements of 'Bonnie and Collide' run through clear, parallel layers that can be easily dissected. Their stage presence clearly shows this to be one of their first songs (it's practically muscle memory). When Oli isn't singing, he's sawing through his guitar. The song grows angrier as it progresses with clever, subtle play on words (like its title), choice retractions, and a chorus that professes love and threatens death in the same line.
Luke beatboxes at the start of 'Take Me Out Alive'. The way the song literally stops each time the very word is being said really engages with the audience. Luke doesn't even seem to break a sweat, catching a cymbal with all those lights aimed at his fox onesie. Even during rests, he maintains energy bouncing up and down on the throne before diving straight back into it. Its sharp contrasts – quiet-loud, fast-slow, stop-go – are driven by guitars thick with the distortion of the '90s and later, the scintillation of the '00s. The energy continues into 'Troy McClure'. The electricity circuiting through him is almost sparking out of his zapping limbs. I am half-expectantly waiting for a runaway steam train to burst out of him. The intensity of the sinister song ends humorously with a very polite, "Thank you," from Oli.
'Long Live the King,' the band's latest single, is punctuated with 'Paranoid Android' orchestra hits and a break-down that sees Max rocking back and forth – bass like a weapon – and Oli going from strings to buttons when not exuding a voice reminiscent of PUP. The overlapping call-and-response that echoes down the band represents a line of succession. Before the first "long live the king" even finishes as a phrase, the second "long live the king" has already sprung forth, triggering a third. The shift in vocals between "shake it up" and "rake it up" is a nice touch, going from passive to assertive, and the hook – "out of sight / out of mind" – is awfully ironic, because once it gets stuck in your head, it doesn't come out, much like the theremin-like guitars of Editors' "Munich".
Finishing strong to enthusiastic applause and a very relieved-looking Luke, who waits to wipe away perspiration from his forehead until the cameras are cut, HyperFox are a force to be reckoned with – experimental, energetic and entertaining.
"I like that we don't fit in one category," says Oli. "A lot of bands sound similar and do things that bands have done for a long time now. Like the amount of Paramore sort of bands. There's so many. It's been done before – and really well. So, I like to be different. I like that we're different. That's the whole sort of goal."
Bugeye
Original members, Paula Snow (bassist) and Angela Martin (vocalist and guitarist) sit in opposite corners of the room with the newer members, Kerrie Smith (drummer) and Grace Healey (keyboardist) between them. The fluorescent lighting reflects off their sequinned, beaded attire as they turn and twist in the mirror, applying glitter to their faces. This is the London band's first time in Norwich. We begin by chatting about Bugeye's sound:
"For me, it's a lot of disco," says Paula.
"Yeah, definitely," Angela agrees. "I really love disco music. I've got quite a weird mix of taste in music, but disco just always makes me smile because it's so tacky and cringey at times. It's good-time music. That's what it wants to be. I'm also quite a big Riot Grrl fan – like Bikini Kill and Sleater-Kinney, and through to the Yeah Yeah Yeahs. Love Blondie, Foo Fighters, Pixies. Lots and lots of guitar bands. That's what I think kind of makes the Bugeye sound – the grungey guitar with the disco beats and the soaring synths."
'Never Let You Go' is a good example of this. Underlined with the predatory, heartbeat of a bass and dizzied with hazy guitar, the song echoes with an effect that suggests being confined to a hollow space. Yet, despite this, the lyric "I'll never let you go" suggests being the trapper. The next part of the song attempts to sound upbeat, commanding to be danced with – as if drowning out the other half of the song. For a moment, we forget about the sinister bass. The song seems to have changed its tune. Only to revert back.
'Is This Love', their latest single, carries on a cyclical theme, opening with the neck of the guitar being repeatedly stabbed against a funky bass riff and a glistening of synthesizers. "It was more of a darker version of the Donna Summer song," says Angela. "Her song's about being all loved up in a club, but this is more about what happens the morning after that."
Angela's vocals range from angsty yowls to free-falling oohs. Hi-hats gasp between the bass and snare drums. Yet, despite all that's going on in the song, "so empty" comes to the forefront. A poetic contrast that distances itself from everything else surrounding it.
The topic soon shifts to a discussion of the band's underlying feminist ethos.
"Women are still very much underrepresented in areas of music technology and some of the other industry roles around it. They're very much dominated by men," says Angela. "But that is slowly changing. I'm going to be positive and say one day it will be all fair and equal, but yeah, there's still a lot of sexism out there. I mean, we still, when we play gigs – we have guys who think they're giving us a compliment, coming up to us and saying ' you know what, when I first saw you, I thought – I said, oh it's a girl band, but y'know, you can really play. You really can. I'm surprised they think that is a compliment! You get that a lot, and it's just – y'know what, in a sense, yeah, you can take that as being offensive, but we can also take it in the sense that if you're proving someone wrong about women in music, then that's a good thing and hopefully changing people's views. But yeah. There's still a lot of sexism out there."
I return my press pass to Rick and thank him for getting me back to music. Somewhere between leaving Epic Studios and passing Access Creative College, something stirs inside me. Something I knew was there, but lost sight of somewhere in a lifeless cubicle, eavesdropping on the equally lifeless conversations that come with them. I think many creatives must be – to an extent – prisoners of the '9 to 5', or else their art, books, films and songs wouldn't offer release or escapism. The epiphany alone makes me realise maybe they're all around us. Creatives. Living Clark Kent day jobs and then coming home to save lives through the art they produce.
Magdalen Street is getting sleepy. The occasional car yawns past. I am proud of my unique neighbourhood. It doesn't look like the rest of England. And it doesn't feel like the rest of England. Its sociable, small-town feel enables you to make a difference and feel part of something bigger.
For me, when I first moved here, I was taken aback by the choice of music playing everywhere I went, which was anything but mainstream. It felt to me, that this was a place that prided the obscure. Norwich stands out as entrepreneurial. It's an underdog of a city, fighting back corporations by championing the produce of its locals. This in turn, retains an identity lacked by many surrounding cities, which start to resemble each other with time.
That's why I have so much pride in my Jersey Shore – a scene that fought to retain its identity only to boast more bands and music artists than ever before, having been influenced by the bands and music artists of past scenes. They play together and tour together and raise each other's profiles. There are more music shops to buy instruments and equipment from. And more studios to practice and record in. And more venues. Sure, there's plenty of arena gigs and festivals, but they can't compare with the intimacy of a small venue gig. That same independent spirit runs through this fine city. And I know it will continue to flourish, too.
In this worsening age of anxiety, where special measures and suicides dominate headlines, community could not play a more important role. Music is a community. One that's rooted in a universal language that can be understood by everyone – whether they can hear or not. Babies understand rhythm. Animals understand pitch. It breaks the barrier of language and conveys everything words can't. By simply pushing 'play', a song unites time, place and people. By simply standing in a crowd, the energy between audience and artist feeds off each other, rendering no two concerts alike. And when musicians die, even if we didn't meet them or see them perform, we feel grief as if they were a friend. We unite in this loss and connect with strangers. We are equally impacted by music, just as we imprint ourselves onto it.
Music is so much more than music. It creates a support network. It gives us a voice. Explains what we can't say, whether that's lyrically or through an instrument. It gives us purpose, identity and catharsis. And reminds us that we're not alone in connecting us.
I take pride in knowing the scene of my youth, my little corner of the world, reaches all the way over here. I hear it from a PA system when I'm waiting in a queue. I hear it being discussed in record shops. I hear it in the sounds coming out of today's bands. And I anticipate hearing how the bands of today will influence the bands of tomorrow. In venues like Epic Studios.
A massive thank you and all writing credits to Monique Guz AKA MO WRITES for her kind words…
MO is a Filipina-American freelance writer and pianist-for-hire based in Norwich with New Jersey roots. She is currently working on a three-part mixed-media series about identity, mental health, and her relationship with music spanning the scenes of New Jersey, London and Norwich. To read the full story and band interviews, please visit:
Author Website: https://omgpiano4.wixsite.com/monakeys
Blog: http://www.monabeewrites.wordpress.com
Social Media:
Instagram: @mona_keys
Facebook: https://www.facebook.com/Mo-Writes-2194912954095129
Twitter: @mowrites
For more information about upcoming shows at Epic Studios please follow the link: What's On